Toevoegen aan bladwijzer
(Alleen in het Engels)
Wander, have a break, look around, chat, enjoy Troyes!
Wandering along the quays, taking a selfie with Lili, putting their bike down to sit on a bench, locals and visitors feel warmly invited for a nice break on the beautiful brand new quays of the Counts of Champagne.
A newly discovered historical place!
In 2011, the canal took a new breath. The concrete cover hiding the canal was removed. Today, Troyes is finally connected again to the water that was there at its origines, when it was built and developed, so it can offer us a pleasant and natural living environment in the heart of the city centre.
The quay of the Counts of Champagne is partially reserved for pedestrians and bikes, and its orientation make it possible to enjoy sunshine until the last hours of the afternoon.
This end-of-the-day sunshine is so sweet and enjoyable for workers at the end of their office day, for visitors at the end of their explorations and for so many more.
Inherited from the Counts of Champagne, masters in controlling the Seine since the 12th century, these canals look so harmonious in the city that it is even hard to remember how this space was before their reappearance.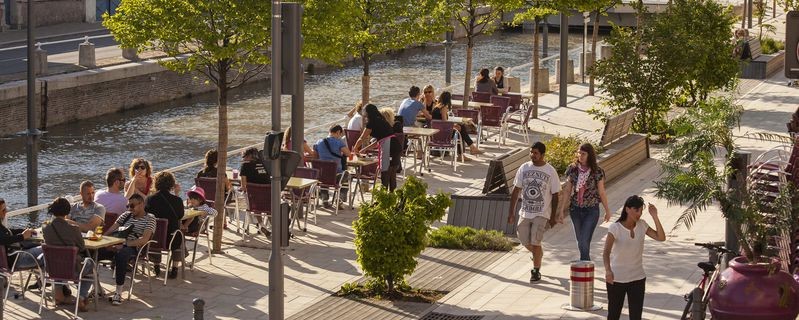 An unbelievable meeting point in the heart of the city!
Beside the joy of walking along the water, it is fun to meet up in the heart of the city. The « heart of Troyes » is materialized by a metallic sculpture, set at the centre of some water jets during the day, and animated with vibrant colours at night. It is the perfect place for souvenir pictures. Come take yours so you can keep a unique souvenir right in the city centre.
Other sculptures create a buzz on social media, where we can see pictures of a stolen kiss with the sculpture of the lady giving a kiss, or of a conversation with Lili. Enjoy and continue your visit towards our emblematic barge, or head back up to the city centre, passing through the Liberation square, where the flowery bushes and the fountains will keep seducing you along your undeniably relaxing stroll.
This is a peaceful place that shows how good it feels to live in a highly dynamic historical city. The inhabitants of Troyes live with their history and this place is the perfect representation of a great association between heritage, culture, festivities, laid-back afternoons, special moments… In short, this is a wonderful meeting point in the heart of the city.
Publié le 5 december 2020 par Jeanne