Toevoegen aan bladwijzer
Come and breath! Recharge your battery! Go green!
Nature trips in Champagne.
Let your senses awaken
So close from you but yet so far from the hustle and bustle of the city, go and experience a trip that makes sens and brings you closer to nature.
Under the guidance of Maximilien, put all your senses on alert and explore, discover the useful and edible wild plants that grow in the heart of Troyes and rediscover the virtues of those wrongly called "weeds"!
Are you longing for more serenity? Come and relax by the Great Lakes of Champagne and admire an exceptional fauna and flora, contemplate the  majestic birds (eagles, black storks, cranes) through the outings "Under the wings of birds" or "Rand'ornitho" (from the Maison des Lacs in Mesnil St Père) and listen to the bellowing of the stag (let yourself be guided from the train station in Troyes to the bellowing place).
Curious about nature? The "Nature Escape: The Mysterious Forest" is the outing for you! Equipped with your butterfly net, your net and your bucket, this outing will make you real explorers! Tritons in the pond, butterflies in the forest, each place visited or animal encountered will be the occasion for beautiful surprises.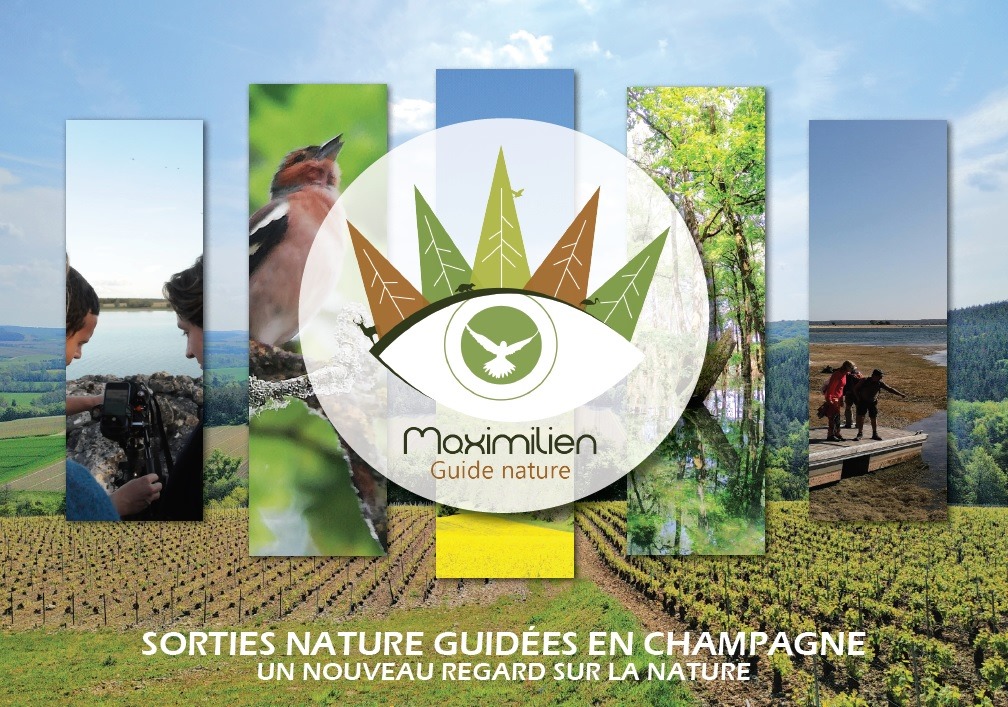 Maximilien, your nature guide
Maximilien Maire is a former professor of Environmental Sciences who became an educational facilitator for a few CPIE (Permanent Centers for Environmental Initiatives), and then a nature guide, in the Natural Regional Park of the Orient Forest. In 2019, with his wide knowledge of the territory and his passion about the Champagne region biodiversity, he launched his own activity as a nature guide.
His mantra: to share and to communicate.
This great nature lover does not hesitate to affirm how much he enjoys making others discovering it. He can adapt not only to what nature offers but also to the visitors wishes, to whom he offers workshops… about nature, of course!
The destination: La Champagne
With three Regional Natural Parks and the new Forest National Park, the Champagne region has a surprising diversity. Discover (or re-discover) this unique destination: its thousand-year-old forests, its great lakes of Champagne and its famous Champagne hillsides! This land welcomes you to participate to the other activities offered by Maximilien, like exploring the vineyards of Montgueux on a Segway or even navigating on the Champagne rivers on a kayak (leaving from the Maison des Lacs in Mesnil St Père).
Take a breath of pure air right now!
Available to everybody, from a duration of 1 hour and a half to half a day.
Equipment provided.

PRICES
● Adults: from 7 to 30 € per person
● Children and schools: from 7 to 20 € per person

Methods of payment accepted: cash, cheque, bank transfer
MORE INFORMATION
Educational guided tours for individuals and groups (English fluent – notions of Spanish), booking required.
Maximum number of people: 30 (60 if a second guide is available)
Schedule: 7 days/7 – All year round
Duration: from 1 hour to 6 days (depending on the chosen offer)
Labelled visits « Expérience Ecotourisme » in the Grand Est region & agreement on collaborative group welcome by ADT Aube.